Updated on 09 Aug 2020
While 2020 was a grim year for most people, the first half of 2020 had been good for Thai BL and fans. Along with the runaway success of 2gether The Series, there were many other Thai BL series like Why R U, My Engineer, YYY and The Shipper that made the lock down period a tolerable, if not wonderful, one.
Looking at the rest of 2020, there's a strong line up of Thai BL series. It seemed that the Thai TV production houses are on a roll. 3 of them, GMMTV, TV Thunder and Studio Wabi Sabi even collaborated with WeTV Thailand to produce 3 BL series to be launched before the end of 2020!
Among this eye boggling line up, here are some of the Thai BL series I think are the most anticipated ones to close 2020. Which of these are you most eager to watch?
---
Still 2gether
Still 2gether is the mini sequel to 2gether The Series, which followed the story of a love-hungry Tine. Tine had wanted to find a girlfriend in University, and as fate has it, he ended up having to fake a relationship with another man, Sarawat. As it turned out, Sarawat had always held a torch for Tine, and both of them ended up being together for real (but of course!).
Why We're Looking Forward To Still 2gether
2gether The Series ยังคั่นกู was undoubtedly the winner of the Thai BL series fight in the first half of 2020. It was so popular that GMMTV launched a 4-episode music variety show Play 2gether right after 2gether concluded. And before that show ended its run, GMMTV had already announced that a mini-sequel, Still 2gether will be launched "soon".
2gether was one of the best Thai BL series to be produced. The story unfolded like a Russian doll throughout the series, which in turn hooked old and new BL fans alike. It became a ritual to look forward to every Friday evening for a new episode. Lock down became more bearable this way! In fact, #2gether and #ยังคั่นกู trended number 1 on Twitter every Friday, in countries like Thailand, Philippines and Indonesia!
Haters insisted the series succeeded because of the good looks of the 2 lead actors, Bright and Win. I choose to believe that the show's quality, one of the best I've watched so far in Thai BL, was the reason for its success.
The series also ended with a surprising "bro-mance" twist, where the 2 leads did a high-five instead of an anticipated hug or kiss. That left a huge hole in many fans' hearts! And nobody would disagree that the only way to make up for this is to have a sequel!
Many people had positive memories of 2gether, and it makes sense that its sequel Still 2gether is one of the most anticipated Thai BL series in the second half of 2020!
What We Know So Far
It is confirmed that Still 2gether will start airing every Friday from 14 August. They are taking over the time slot of The Shipper, which in turn took over the time slot of 2gether.
In the lead up to the announcement, GMMTV released an OST for Still 2gether PH, which was a cover of a song originally by Filipino rock band The Eraserheads. Yep, it was an OST specially for Philippines, which goes to show where the biggest fan base for 2gether fans is outside of Thailand!
They also released a DVD boxset for 2gether, teaser posters for Still 2gether as part of the marketing blitz. Over the last weekend of July, the official trailer of Still 2gether was released.
Based on the official trailer, it seemed that GMMTV was very sincere in making up for the bromance high five in the finale of 2gether. It was a 2.5 minute video of non-stop sweet interaction of Sarawatine. I hope we would find more candied Easter eggs in the full 5 episodes!
The trailer also gave fans an idea of the future of Sarawatine and their friends. Not only will we get to see development of the original side CPs, ManType and MilPhukong, it seems like we are going to get a dose of Boss and Pear (the only straight CP so far). There was a cameo of everyone's favourite character towards the finale of 2gether – Fong. Let's hope that Fong will also get paired up with somebody!
Official Profiles And Hashtags To Follow And Get Updates on Still 2gether
2gether is so hot that tweets related to "2gether", "Still 2gether" and "Bright Win" are constantly updated every hour. Unfortunately, there is no official Instagram or Twitter accounts for either2gether or Still 2gether. Therefore, one has to to follow GMMTV's Instagram and Twitter account to get official updates of the upcoming hit series.
Additionally, one can also follow the official hashtags on Twitter. The Thais and Filipinos are very active on Twitter. Therefore, BL fans of Still 2gether are bound to share updates/reviews/speculations on Twitter, via the following tags (clicking on the tags will bring you to their Twitter search results):
#ยังคั่นกู #STILL2GETHER #ไบร์ทวิน
---
TharnType 2: 7 Years of Love
Before 2gether, TharnType was the hottest Thai BL around. Released in 2019, TharnType adopted a steamier and more daring approach than 2gether's pure and innocent flavour.
TharnType followed the development of a pair of room mates, one gay and another a homophobe, who went from spiting to loving each other. Yup, they went from fighting off the bed to sparring on the bed. The waves of intimate scenes totally swept BL fans off their feet. I've got to give kudos to Mew and Gulf, the 2 main lead actors, for their daring and sporting (pun intended) performance!
Why We're Looking Forward To TharnType 2: 7 Years of Love
TharnType 2: 7 Years Of Love is the follow up to the hit series of 2019. Everybody's looking forward to a continuation of the steamy sessions between TharnType. The question is, is their relationship still as hot after 7 years?
The original series focused exclusively on TharnType. The side characters were mainly potential love-wreckers like Lhong and San. The story line of side CP Thorn and Tar, which we know from Love by Chance, another novel set in the same BL-universe as TharnType, didn't get much attention.
Since announcing the sequel, the production team had conducted high profile casting auditions for new roles in TharnType 2. It seemed that we would be seeing many new characters added in this sequel.
Even though TharnType ended more than half a year ago, fan interest in this BL couple remained high. Why? MewGulf continued their onscreen chemistry on social media! In June, they shot to #1 Twitter trending for their live video streaming for KFC. That was only one of their proof that they're still hard at providing fan service in the past few months!
With fans still feeling high at seeing MewGulf on social media, it will be no wonder that TharnType 2 received a lot of attention ever since it was announced. MewGulf reprising their roles as TharnType is definitely one of the events BL fans look forward to in 2020!
What We Know So Far
Although production has commenced, it remains to be seen if TharnType 2 can make it for the rumoured Dec 2020 release date. What with the pandemic making it difficult for cast and crew to come together!
Speaking of cast, we roughly know who would be involved in the sequel, based on the cast photo posted on TharnType 2's official social media platforms. There will be at least 2 new side CPs and 1 "ex-lover" who would stir waves between the 2 title characters.
Based on the update from My Dramalist, the story line will take place 7 years after the first series. It will focus on TharnType trying out #adulting in the workplace.
To be honest, that story line sound similar to Together With Me 's sequel, Together With Me: The Next Chapter, and SOTUS' sequel, SOTUS S. While SOTUS and Together With Me were the most popular Thai BL series of the year in 2016 and 2017, respectively, the reaction from fans towards their sequels were colder and stiffer than leftover Pad Thai. It seemed like fans of Thai BL would rather their BL fantasy remain on campus.
My theory is that many BL fans are OLs in the first place. BL in the workplace? Nah! They have been around long enough to know that the working world is full of boring straight guys who are more likely to crack crude jokes about women's bodies than make love with another pretty boy. And yes… pretty boys. Pretty boys belong to schools. Somehow, everything went downhill after they graduated.
N.B: Are you a BL fan who is also an OL? Or are you not? Let me know by leaving a comment below!
Official Profiles and Hashtags To Follow And Get Updates on TharnType The Series 2: 7 Years of Love
The best way to get updates on TharnType 2 is to follow its official Instagram and Twitter (linked above) accounts. Both profiles frequently updates the progress of the series' filming. And of course, they also have the usual lovey dovey interactions between MewGulf everyone is so addicted to over the past 1 year.
Unlike Still 2gether, the marketing team of TharnType 2 has filtered the Twitter hashtag to #TharnTypeTheSeriesSS2. It's easier to follow, and most likely easier to trend, when the series eventually airs in end 2020!
---
Love By Chance 2: A Chance to Love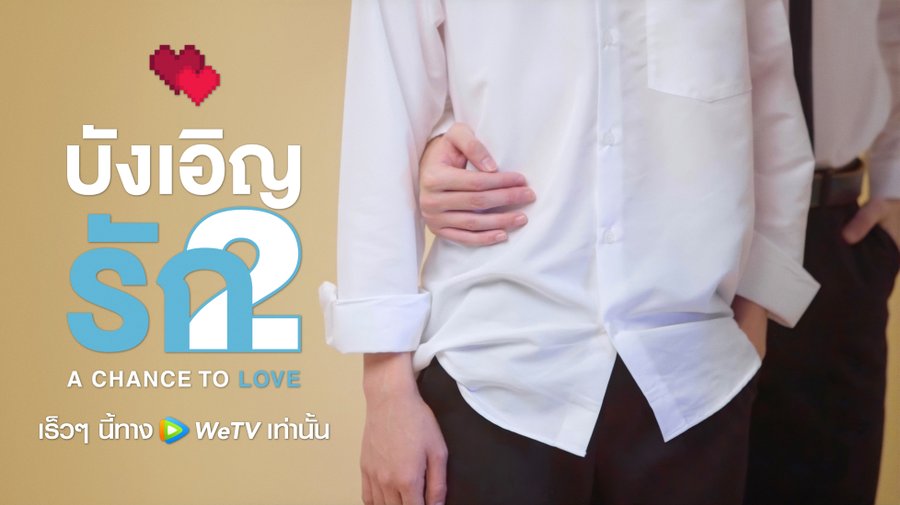 As mentioned earlier, Love By Chance exists in the same BL-universe as TharnType, albeit a few years after TharnType. The story revolved around 2 couples, AePete and TinCan, and the series also quickly became the hottest series in 2018.
AePete met each other when Ae ran his bicycle into Pete one day. Over time, Ae, who is outgoing and a good caregiver, became closer to Pete, the gentle one in the relationship, after taking care and protecting Pete from all the troubles he came across. The series' side CP, TinCan, also became the love of BL fans. Tin was rich and cool, and always picking on Can, whom he saw as brash and without culture. When Can found out Tin liked him, he just couldn't resist running away from the bully!
The sequel to Love By Chance, A Chance To Love will follow TinCan's journey as a couple.
Why We're Looking Forward To A Chance To Love
The original series focused on AePete, while TinCan, though well loved, was planned to be a side CP. This time around, fans will get to binge on the cute Tom and Jerry interaction between the 2.
The actor of Tin, Mean, had also gained quite some popularity in the meantime, In his latest series, My Bubble Tea, which also starred popular idol Nichkhun, Mean's character, Light became a darling among fans. This character, with over-the-top personality, was a 180 degrees difference from Tin, which makes for an interesting contrast of his acting skills.
What We Know So Far
WeTV Thailand just posted a teaser poster on its Twitter page on 8 Aug. Now we know this sequel will get the backing of a TV giant, and that was also when we knew "Love By Chance Season 2" will be called "A Chance To Love".
There is also a press conference scheduled for 20 August where fans can expect more updates to be made known. It has also been rumoured that A Chance to Love will be aired in Sep 2020. Whether this is true (it sounds too soon), remains to be seen.
However, if it's true, we will have a full calendar of highly anticipated BL series through to end of 2020!
Official Profiles And Hashtags To Follow And Get Updates On A Chance To Love
As there's no official social media account for Love By Chance, the only way to get updated on A Chance to Love will be to either follow WeTV Thailand's Twitter account (linked above) or by the following Twitter hashtags:
---
Manner of Death
Manner of Death is also another novel remake. Unlike the other 2 series listed in this post, Manner of Death is not a sequel, and does not take place in a school setting. The series talked about a medical examiner who refused to accept that a case referred to him was a result of natural death. In his quest to solve the mystery, Dr Bun met Tan, a suspect who's at the same time eager to help him solve the case.
Why We're Looking Forward To Manner of Death
Although Manner of Death is not a sequel, it will not be the first time the lead actors MaxTul worked on a project together. In fact, they were one of the power couples in the Thai BL world, having rose to fame after their trilogy, Together With Me, Bad Romance and Together With Me: The Next Chapter gained widespread popularity. Till date, their BL personna, KornKnock, is the only BL couple to have helmed 3 series.
With their track record, Manner of Death is naturally one of the most anticipated Thai BLs before 2020 ends.
The anticipation is most apparent in the wild and diverse range of fan art that popped up ever since the duo was confirmed to helm the drama.
When 2gether broke viewership records earlier in 2020, it also broke the belief that Thai BLs have to be sexually charged in order to be successful. In fact, as more Thai BL series were announced for the 2020 H2 line up, Thai BL fans expressed their skepticism that almost all of them were based in school, with more than half set in engineering schools. Apparently, fans want more than 2 gears fitting their teeth with each other.
As a crime drama, Manner of Death has the most unique setting for a Thai BL. For such a genre, there should also be plenty of flesh and blood to be seen. Given the recent change in BL fans' taste, 2020 might see another breakout success with Manner of Death before the close of the year.
Just recently, WeTV Thailand revealed that Manner of Death will be directed by Chookiat Sakveerakul, who also directed Thai BL classic, Love of Siam. Though both stories were of different genres, given his experience, there's no doubt Manner of Death will come out as good as Love of Siam!
With the first fan meet coming on 13 Aug 2020, there should be more news of this highly awaited Thai BL series!
What We Know So Far
The marketing team for Manner of Death was superb in stirring up interest in the series. Right from April 2020, when it first teased about the remake, till mid May, when rumours were strife about MaxTul being cast for the series, the production team had had Thai BL fans hooked on the #MannerofDeath news run.
After MaxTul were confirmed to be cast as lead roles for Manner of Death, TV Thunder also announced that this series would be part of the mega collaboration that WeTV Thailand has with 3 Thai BL studios. With that, the air date of Nov 2020 was also set.
Although production has started, little is known about the cast other than MaxTul.
Therefore, despite having a more confirmed release date than TharnType 2, there is little information about this project compared to the other 2 series above.
Official Profiles And Hashtags To Follow And Get Updates on Manner of Death
The official Twitter and Instagram profiles of Manner of Death had been very active since the confirmation of the series. In fact, Manner of Death does a lot of fan service. The Twitter profile retweets fan tweets on a daily basis. This could also explain why there was an explosion of fan art on Twitter!
Manner of Death's author, Sammon was also very active retweeting fan tweets related to the series. Of course, he was also very active in announcing updates related to the novel itself, like when the novel gets picked up for translation in another country.
Despite that, most of the "original" contents were mainly of MaxTul in photoshoots to promote the BL series. Details of the series itself were still kept under wraps as of now.
Other than following the Twitter account of Manner of Death, one can also follow the official hashtags to get updates from production crew and hardcore fans. Most of the first "leaks" were actually from them, rather than from official sources. So following these hashtags means getting first hand updates of Manner of Death! (Clicking on the tags will bring you to their Twitter search results)
#MaxTul #MannerOfDeath #พฤติการณ์ที่ตาย
Parting Words
Since the start of 2020, many Thai BL projects were announced. However, most of them did not have a concrete release date or information related to its filming progress. One story that I liked, The Tale of A Thousand Stars, was supposed to be aired in end 2020. However, in mid 2020, it was announced that production had only just started due to "technical delays". Most fans predicted that this series will most likely only air in 2021.
Sequels of high profile BL series were also announced, from Love by Chance, My Bromance and My Engineer. However, the release dates were not confirmed. Considering the current pandemic situation, it is likely the production studios, which are not as resourceful as GMMTV, could only launch these series in 2021.
There are also numerous non-sequel series lined up for end 2020. However, we can't expect every one of them to be a hit like 2gether. In fact, most of them are most likely "fillers" for fans waiting in between the highly anticipated series.
Still 2gether will kick off the busy Thai BL season in mid-August. Love By Chance 2: A Chance to Love will then air in September. Manner of Death will then pick up the momentum in November, and then go head to head with TharnType 2 in December.
Add on the numerous original Thai BL series like Oxygen (airs in 12 Sep, 2020), My Gear and Your Gown (airs in Sep 2020),Thonhon Chonlathee (airs in Nov 2020) and Friend Zone 2: Dangerous Area (airs in Dec 2020), it would be a very busy (but satisfying) 2020 for BL fans!